How Old Feelings From Your Childhood Could Be Controlling You Now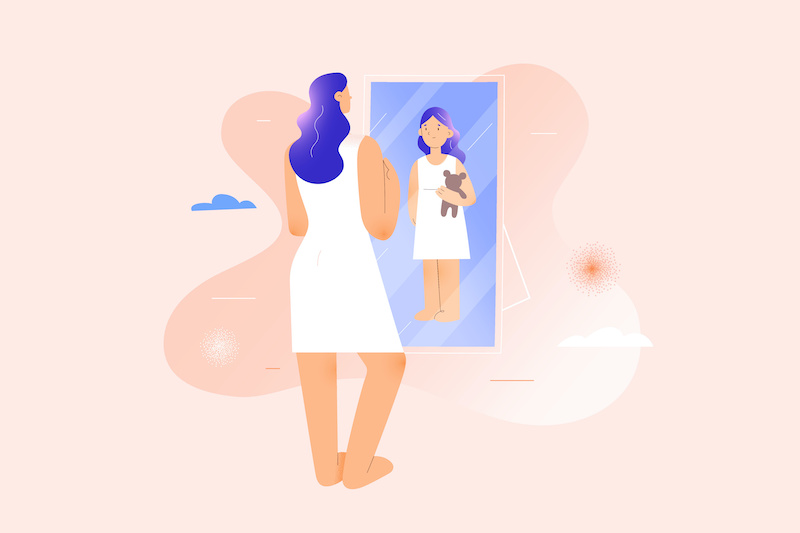 Travis
Travis's wife notices that he becomes unnecessarily angry every time she asks him to do something, even if it's just a small chore around the house. Frustrated by his constantly ruffled feathers, she finally points this out to him. Once Travis hears this, he begins to pay attention to his own reactions in a way that he never has before. He realizes that he indeed feels a jolt of anger just as his wife has observed. "I don't like being told what to do," he concludes.
Lynn
Lynn is the mother of an 8-year-old daughter, Hayley, and also a 3-year old son. Hayley is doing well in 3rd grade. Her teachers describe her as a well-adjusted, happy, well-liked child who does all of her schoolwork very well. But Lynn has a hard time accepting the teachers' reports at face value. She finds herself asking Hayley too many questions about her playground experiences, friends, and interactions with her peers. She lives in fear that Hayley will experience bullying.
Ivan
Ivan is out to dinner with his group of friends. Everyone is talking and laughing and having a fun time. But Ivan is struggling. Glancing at his watch he yawns and wonders how long he needs to stay. Deep down, he is feeling boredom that goes beyond boredom, and a swirl of frustration that makes him want to spring out of his chair and leave. It's a complex cocktail of emotions that, strangely, seems both curiously out-of-place and yet deeply familiar.
Driven By Unseen Forces
Travis, Lynn, and Ivan are no different from the rest of us. We all live our lives under the influence of silent currents that ripple through our lives, coming upon us unexpectedly and yanking us this way or that way. They can leave us wondering, confused, or even sometimes baffled, about why we feel what we feel or do what we do.
These currents are the real reason for Travis's anger, Lynn's fear, and Ivan's urges to flee. They are old feelings. Feelings from growing up that they never faced or dealt with and of which they are unaware. All three of these people are being influenced by unresolved emotions from their childhoods.
3 Principles of How Childhood Feelings Work
Squelched, walled-off, or pushed away feelings do not go away. They simply go underground and pool there, waiting to be touched off.
Old feelings can be easily touched off by any current situation in your life that simulates the original cause of the feeling. This can be completely unrelated to the original cause and they may attach themselves to an event, experience, or person in your current life who does not deserve them.
These old feelings can be just as powerful, or even more so, as fresh ones. They may appear to come out of nowhere. They may even make you wonder what is wrong with you.
How Travis, Lynn, and Ivan Got Their Feelings 
Travis
Travis was raised by an authoritarian father who would come home from work and bark orders at Travis. "Do this," "Now do that," he would command in a booming voice. Travis knew that if he didn't hop to it he would pay a heavy price with his dad. Travis learned early and well how to squash his own feelings, wishes, and needs and do as he was told in order to keep his father from exploding.
Travis has pushed his anger at being controlled by his dad underground for so many years that they are now pooled in his body like an underground spring. When his wife asks him to do something for her, she inadvertently triggers his buried feelings.
Lynn
Lynn's family moved around a lot when Lynn was growing up. Between grades 3 and 12 she lived in 5 different states. The middle child of 3 siblings and with two busy, working parents, Lynn was mostly left to adjust to all these changes on her own. In 2 of the schools that she attended she encountered severe bullying, targeted for being "the new kid." With no one to help or defend her Lynn's main coping mechanism was to simply ignore the bullying and pretend it wasn't happening.
Lynn is going through her adult life with lots of intense feelings from the bullying that are conveniently walled off. Feelings of hurt, helplessness, and loneliness lurk on the other side of her wall waiting to be touched off. Now, her child's age is triggering her old feelings, causing her to live in fear that Hayley will have the same experience is attaching itself to Hayley where it does not belong.
Ivan
Ivan grew up in a typical American family that was, by all accounts, "good people." But those good people had some major shortcomings. Only positive, happy feelings and words were allowed in their house. Ivan's parents viewed negative feelings, such as anger, sadness, hurt, or anxiety, as unnecessary complaining. They thought they were training their children to be happy, but they were actually literally banning and squelching a great deal of the most deeply personal expressions of their children's humanity. Ivan always knew that he needed to keep any negativity to himself.
Finding himself in this happy circumstance, Ivan's deep well of negative feelings, pushed underground by his parents, begins to threaten. He has no idea why, but whenever he should be happy, he feels bored and frustrated and needs to escape. Because his parents always required him to be happy, he now experiences happy circumstances as an unreasonable demand placed on him, and old feelings of rebellion are activated.
What To Do
Become aware. Old feelings can only trigger you when you are unaware of them. Once you realize what's happening you have the opportunity to take control.
Take control. Put a label to the feeling, or mix of feelings, that are triggered and identify the kinds of situations that trigger them.
Face the feelings and process them. Sit with these old feelings and allow yourself to feel them. Share your story from childhood and allow someone to help you get perspective on it.
Pay attention. Watch for those old feelings to come up. When you feel them, try your best to parse them out and put them where they belong. It is your responsibility to protect those who share your life now from feelings caused by others in your past.
Childhood Emotional Neglect (CEN). Travis, Lynn, and Ivan all grew up with Childhood Emotional Neglect. Sadly, they have no idea. Instead of walling off your feelings, you can learn how to use them in a healthy and useful way. To begin take the free CEN Test and start down the path to recovery.
Learn about Childhood Emotional Neglect, how it happens in the life of a child, and how to heal it in the books Running On Empty and Running On Empty No More.