3 Surprising Reasons People Feel Lonely on Valentine's Day
Do you have a stereotypical picture of a person who feels lonely on Valentine's Day?  You might imagine someone who wishes to be in a relationship and is sitting alone feeling sad.
In truth, most of us know how this stereotypical picture feels since we have been there ourselves at some point. Navigating the complicated world of relationships is not easy, so it's likely that you have spent one or more Valentine's Days alone, or perhaps for you, this year is this one.
Surprisingly, however, this image of loneliness is often highly inaccurate. A 2010 study by John Cacioppo published in the journal Social Science and Medicine found that feelings of loneliness were unrelated to marital status or the number of relatives and friends nearby.
It's not only possible but common, to feel lonely when you're not alone. And to be alone, but to not feel lonely. It's because loneliness is not a state, it's a state of mind. Loneliness is not a situation, it's a feeling.
Yes, indeed, scores of people feel lonely on Valentine's Day, and many are in relationships or surrounded by people. Many have no idea why they feel alone.
Whether you are actually alone this holiday or not, it is possible for you to change how you feel this Valentine's Day. Start by understanding where your alone feelings originate.
3 Reasons You Might Feel Lonely on Valentine's Day
You are afraid to let people know the real you: I have seen this fear in many, many people who are actually quite likable and lovable. I call this fear the Fatal Flaw because it stems from a belief that something is inherently wrong with you. The Fatal Flaw can fester under the surface of your life, preventing you from letting anyone get close. "If they get to know me they won't like me," says the voice of your Fatal Flaw. You can be married, or you can be surrounded by people, but it does not help you feel less alone because none of those people truly knows or feels who you are. You have not let them.
Counter-Dependence: Counter-dependence is a fear of needing or depending on someone. You are afraid to seek love because, to you, seeking love makes you feel, or appear weak. Counter-dependence has great power to influence your life. It can make you feel ashamed for wanting a partner. It can make you feel weak for having emotional needs. This leads to self-imposed isolation, of which you may not be aware. Even though you are the one preventing yourself from closeness, you may perceive it the opposite way; that others are keeping you at bay.
You are holding yourself back from true emotional connections: For some people, emotional intimacy feels threatening. Whether you're in a relationship or not, you hold your emotions separate, fearful of using your feelings as they were intended: to connect you with people. So when you have an emotional connection, you feel vulnerable, and when you don't have it, you feel safe. But along with "safe" comes "lonely." True love requires a true emotional connection. Emotional connection requires vulnerability. You cannot have one without the other.
3 Ways to Stop Feeling Lonely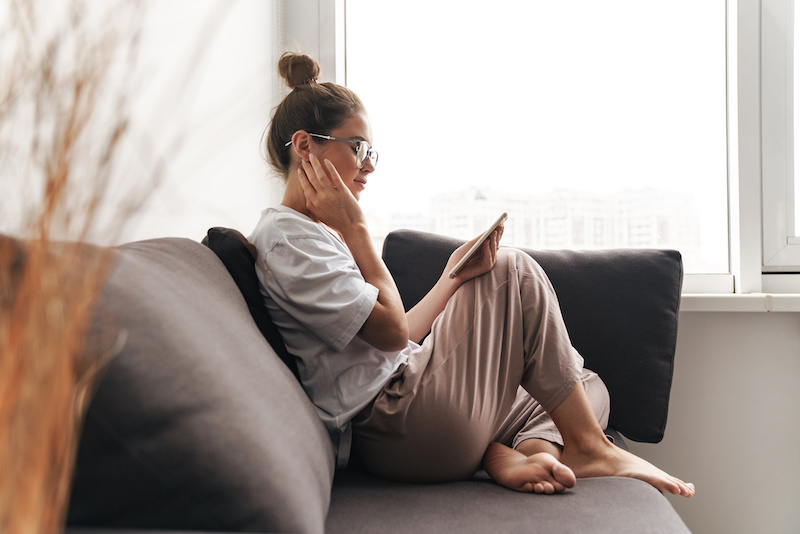 Did you notice the one common element that unites these three factors that lead to loneliness? It's fear. Fear of being known, fear of having needs, and fear of being vulnerable.
These fears are powerful and can do great damage to your quality of life. If you want to stop feeling lonely, you must battle your fear. The good news is, you can!
Let someone in. You've been living your life closed off, because of your fear. Choose one person, and take a risk. Start trying to let someone know what you want, what you need, and most importantly what you feel. This may seem like a risk to you, but in reality, there is very little risk involved. Choose a trustworthy person and make a conscious effort to open up to her or him. You will be pleasantly surprised.
Accept that there is no shame in needing someone. Wanting a relationship is not a sign of weakness, it's a sign of strength. Needing to feel close, wanting to rely on someone is a normal, healthy sign of your humanity. Being able to develop a relationship is a sign of confidence in yourself, not weakness.
Make emotional connection your goal. Adjust your view of emotional connection from negative to positive. This is the ultimate way to face your fears. Next time you have a conflict with someone, make an effort to talk about it with that individual. Start paying attention to what other people are feeling, and see if you can respond to their feelings. Becoming more aware of emotions in yourself and others is an excellent way to move toward emotional connection.
The Takeaway
Once you realize why you feel lonely, an opportunity automatically presents itself. You realize that fixing your loneliness has nothing to do with anyone else, and everything to do with you.
Whether you find yourself on your own, a part of a couple, or surrounded by friends this Valentine's Day, you can face your fears and see that there is no need to feel lonely.
Childhood Emotional Neglect (CEN) is invisible and is often the root cause of these kinds of fears. To learn more about it, see the book, Running on Empty. To learn how CEN prevents deep emotional connections in adulthood see Running On Empty No More: Transform Your Relationships.
Since CEN is so subtle and invisible, it can be hard to know if you have it. Take the Childhood Emotional Neglect Test. It's free.