4 Ways You May Be Keeping Yourself Running On Empty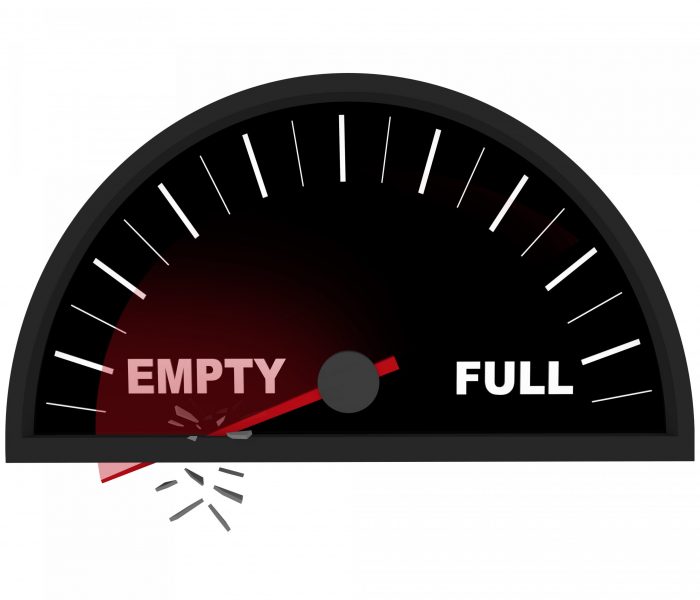 Julie
Julie loves her husband Dom very much, but lately, all they seem to do is fight. Julie wonders how Dom can possibly complain that she's not home enough lately when he can see how many demands she is juggling.
Bill
Bill struggles to do everything right in life. He has a good job and a family that loves him. Yet he walks through his days feeling numb. As he provides for his family and responds to his boss's every request, he sometimes wonders what it's all for. Recently he's been drinking more than he should.
House, job, family. Parenting, grocery shopping, errands, and social media; we are all people of the world. And in today's world, our lives are overly full in so many ways. So it's ironic that so many of us feel so very UN-full.
The feeling of emptiness is elusive. It's experienced differently by different people. Hardly anyone knows how to put it into words. So you may at times say you're stressed or down because it's the best word you can come up with, even though it doesn't seem to quite capture what you feel.
Even more likely, you say nothing. After all, you may have a life that is actually quite full. And you may assume that everyone feels this way.
4 Ways to Feel Empty
Numbness: This involves walking through your life with little emotion. You know you should feel more joy, more excitement, more love; and also more sadness, and perhaps more grief. You're not sure why, but those feelings are just not quite there.
A physical ache: Almost no one feels this all the time. But you may at times feel an emptiness somewhere in your body. In your belly, throat, chest, or head for example. A deep, painful ache that's difficult to name, and seems to come from nowhere.
A feeling of being lost and alone: Surrounded by people, and yet lonely. Lots of places to be, and yet lost. Having people around doesn't mean you feel that you belong with them. And knowing that you love someone doesn't mean that you can feel it.
Over-taxed and joyless: So many commitments and not enough of them are to yourself. You're there for everyone else's needs, but what about your own?
Whatever your personal experience of emptiness, the roots of this feeling almost always can be found in your childhood.
We grow up in households that are busy or struggling, and somehow not quite emotionally nurturing enough. From this, we learn everything about how to stay busy and struggle, but little about how to nurture ourselves.
So we grow up looking in all the wrong places for support and fulfillment. We live our adult lives with a sense that something is missing, and no idea how to find it.
4 Ways You May Be Keeping Yourself Running On Empty
By Being Too Externally Focused: It's natural in today's world to be caught up with what's outside of you: your house, your job, your car, successes, failures, sports, and the weather. Truly, those are all good things. They will provide for you, entertain you, and give you topics at dinner. But they will not fill you up.
By Ignoring What Emotionally Fills You: Part of being too externally focused is that you may end up not seeing what's closest to you: You and the people who love you. You may, for example, be so busy with your many commitments that you have little time to enjoy yourself with your family or children. In fact, you may not find yourself enjoying much of anything. Yet you may seldom notice that your joy is missing.
By Poor Self-Care: Self-care is a way of nurturing yourself. Do you deserve to be healthy? Are you worth the time it takes to buy and prepare healthy food? To plan a family vacation so that you can enjoy your family's company and make happy memories? Is it more important that you start another project or that you be aware of your own needs, and try to fill them?
By Seeking Fulfillment in All the Wrong Places: There are many tempting ways to try to fill yourself, none of which will work: activity, alcohol, recognition, admiration, food, shopping, gambling, social media, money, drugs, and success are just a few.
Julie
Julie can't see what Dom sees: that she is hugely over-committed. In addition to her job and her two daughters, she volunteers on two committees at the school. She's involved in a town fundraiser, and now she's talking about starting up a small business on the side. Dom watches helplessly as Julie becomes increasingly depleted and worn.
Over-committed and joyless, Julie has lost her way. She seeks to fill herself up with activity, projects, and maybe some recognition, with perhaps a little money thrown in. On this path, Julie will never stop having those pangs of emptiness that come and go.
Bill
Bill walks through life feeling numb and knowing that something is not right. He knows he should be happier and more fulfilled. After all, he's the man with everything. Bill has no idea that throughout his struggle to do everything right in life, he has missed the boat on what truly matters to him.
Bill knows how to walk the walk, but he doesn't know how to feel. He's caught up in the externals of life, and he cannot see himself. Bill is missing out on what could give his life meaning: his feelings.
No matter what type of emptiness you feel and how you've tried to fill it, it's never too late or too tall a task to change your course.
Focusing inward instead of outward; noticing your own feelings and needs and trying to meet them; finding what makes you happy, and making memories with people you care about. This is the path to filling yourself. 
Surprisingly, once you're on your new path, you may find that it is actually far easier than your old one.
To learn more about how to become more self-aware and fill yourself up, see the book Running on Empty.
This article was originally published on psychcentral.com. It has been updated and published here with the permission of the author and PsychCentral.