9 Traps of Childhood Emotional Neglect During the Holidays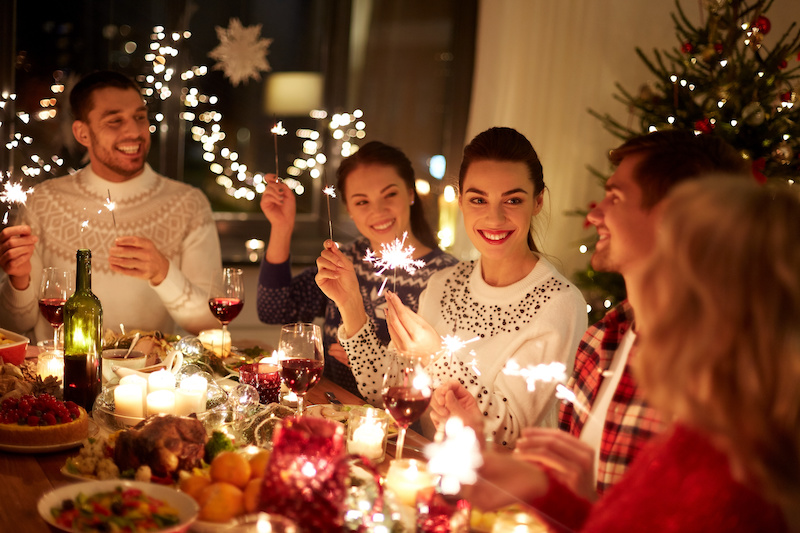 Childhood Emotional Neglect (CEN) permeates your everyday life. And there are some situations that can make CEN struggles even more present and challenging. One of them is the holiday season.
Notice the picture accompanying this post. I chose it for a special reason, and I want to start by apologizing for it. It is a perfect example of the pressure society puts on everyone throughout the holiday season. Commercials, ads, and images abound which show warm, happy families or beautiful people smiling with gifts.
Be joyous!
Be merry!
We're a loving, close family!
The pictures call out to us day after day.
As a specialist in Childhood Emotional Neglect (CEN), I see how this affects many people. There is no time of year when folks are under this much pressure to feel. And even more challenging: you're supposed to feel happy.
I have followed many emotionally neglected people through many holiday seasons, and I have seen how they often experience them. Under pressure to feel, the holidays can seem vaguely disappointing and burdensome for those who grew up emotionally neglected.
Childhood Emotional Neglect happens when your parents raise you in a way that does not pay enough attention to your emotions. Childhood Emotional Neglect leaves you with a particular set of struggles within yourself, and also with your family, throughout your adult life.
As you read the list of special challenges below, I encourage you to think about yourself and whether each one applies to you. Knowing and thinking about these challenges before they happen, or as they are happening, will help you minimize their effects on you this holiday season and beyond. First, let's talk about the general effects of growing up with your emotions ignored.
Year-Round Struggles of the CEN Person
You feel deeply that something is not right with you. But you have problems understanding what's wrong or why.

Your emotions are walled off, making it hard to experience the depth of feelings that other people have.

Being out of touch with your feelings makes your relationships seem less rewarding, leaving you feeling, on some level, alone.

You naturally put other people's feelings and needs before your own.

You are prone to getting angry at yourself and blaming yourself.
9 Traps of Childhood Emotional Neglect During the Holidays
It makes your tendency to put others first even more exaggerated. When your parents failed to notice your feelings and emotional needs in your childhood, they give you the message that your feelings and needs are unimportant. This plays out powerfully during the holidays when you are prone to be too worried about making other people happy, and not paying enough attention to yourself.
It can make you feel even more alone. With your feelings walled off, it is hard to connect with other people on a deep and meaningful emotional level. During the holiday season, you feel the expectations of the season. Portrayals of loving, warm families gathered around a fire, candles or a Christmas tree make you feel even more acutely what is missing in your own. 
You are vulnerable to missing out on what matters the most. Lacking full access to your own emotions has another effect. It can result in you going all the way through the holidays focusing on gifts, decorations, and pleasing others instead of the feeling part of the experience. This is also something that is very hard to realize in yourself because it's difficult to know what you are missing.
You are prone to the Holiday Trap: Looking forward to your family holiday event and then feeling disappointed and let down. Emotionally neglectful families often can appear perfectly normal from the outside. So you are vulnerable to expecting to feel happy and connected with your people, only to feel the lack of true emotional connection when you see them. This can lead to a roller-coaster experience: happy, excited expectations followed by a disappointing letdown.
Being around your family continues your CEN. If your parents emotionally neglected you in your childhood, chances are high that they are still doing so. You will feel it when you see them for the holidays, and probably you will feel it even more when surrounded by the trappings of the holidays. This is one of the main causes of the disappointment described above.
Once you're aware of CEN it makes you see your parents and siblings differently. Seeing Emotional Neglect in your family changes how you view your birth family in some powerful ways. You begin to see that what seemed benign before is actually hurtful and harmful to you. This may make you feel angry or frustrated with them.
The pressure to be joyous makes you feel lacking. CEN makes it hard to feel as intensely as others do, and it also makes you prone to feeling empty at times. For many with CEN, the pressure to feel joy makes it even more obvious that something is missing in your life. You may experience the emptiness even more.
Your tendency toward self-anger and self-blame gets triggered. You may feel angry at yourself for overeating, not exercising enough, or for saying something you regret. There are many opportunities to do any or all of these things during the holidays.
You are more likely to find yourself running on empty. Riding the roller-coaster of disappointment, surrounded by family but feeling alone, over-focused on others at the expense of yourself, and out of touch with the energy of your feelings, you are likely to power through the holidays by sheer force of will, all the while growing ever more drained day by day.
What To Do
Although the CEN ship has already sailed through your childhood, it is never too late to turn that ship around. But to do so, you must be proactive. Now that you see what's been dragging down your holidays for years, you are in a good position to start making things different for yourself.
In the short term, now before the holidays, start treating yourself more as if you matter. Set aside time every single day to do something that nurtures you. Pay attention to the feelings you are having each day, and accept what you feel without judgment. Make sure you get enough rest, healthy food, and fresh air, and spend time with someone you enjoy.
And most importantly, start healing the roots of what's wrong: your Childhood Emotional Neglect.
To get started, Take the CEN Test. It's free. Then learn everything you can about Childhood Emotional Neglect: how it happens, how it affects you, and the 4 Steps to CEN Recovery. Start working on Step 1, and do not stop. You can learn much more about all of these things in the book Running On Empty: Overcome Your Childhood Emotional Neglect.
You deserve a happy holiday season. My warmest holiday wishes to you!
A version of this article first appeared on psychcentral.com. It has been republished here with the permission of the author and Psychcentral.