How COVID-19 May Be Affecting Your Relationship With Your Emotionally Neglectful Parents at the Holidays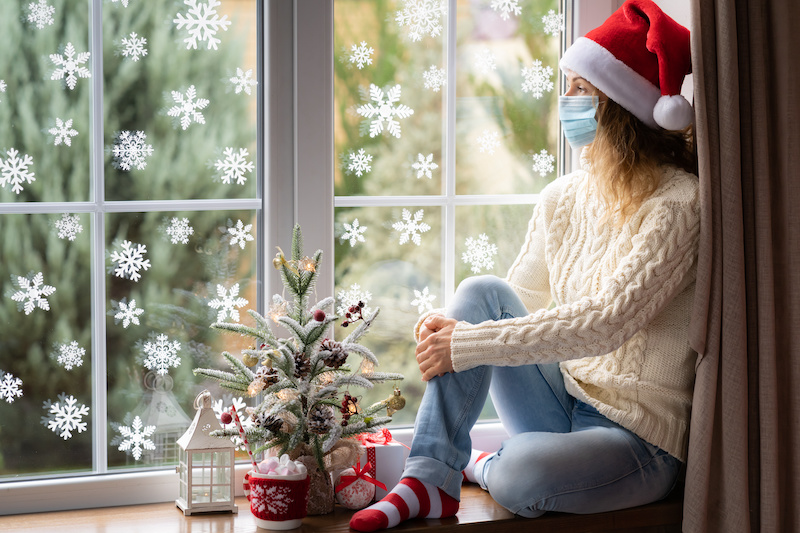 Two things are going on right now that are causing more pain in adults' relationships with their emotionally neglectful parents. Care to guess what they are? It's the holidays plus the COVID-19 Pandemic. Mixed together, they create a cocktail of uncertainty, worry, emotional distance, and feelings of emptiness.
COVID-19 is affecting many people in many different ways. But one effect that is shared by most, perhaps virtually all, of us these days is that it, especially combined with the holidays during this unusual year, is making us feel more vulnerable.
Exactly what do I mean by vulnerable? I mean many different flavors of vulnerable feelings.
In this unprecedented time, you may be feeling more physically, socially, and emotionally vulnerable than usual and perhaps more so than ever before in your life.
You may feel physically vulnerable due to the risk of getting sick.
You may feel socially vulnerable due to being cut off or distanced from your family and friends.
And you may be feeling emotionally vulnerable, a product of all three of the factors above. On top of all that, most of us are spending more time alone with fewer distractions. The pandemic, with its social distancing, requires you to sit with yourself more, so it's difficult to escape your feelings, anxieties, doubts, and fears. And they may be many.
Your Relationships
As COVID-19 drags on, the holidays approaching, and the world awaiting a vaccine, many relationships have been affected. Some have been enlivened or deepened or enriched. Marriages, friendships, and families have become closer, more mutually dependent, and more supportive.
Other relationships have been strained by the present situation we are in. They have been challenged, weakened, frustrated, broken, or pained.
As someone who hears from hundreds of people every week who are doing their best to cope with the pandemic, as well as the holidays, one of the relationship types that I have noticed taking a lot of boosts, as well as hits, are the relationships between CEN adults and their parents.
Whatever your situation with your parents, the pandemic may be complicating it. Your parents may live nearby or far away. You may have had issues with your parents before COVID-19. Your parents may be healthy emotionally and physically or they may be elderly and frail. They may be living in a facility.
Whatever the circumstances, I believe that millions of people are feeling extra vulnerable right now and are finding themselves struggling with their parents in some new way. And it is all due to circumstances that are completely out of their control.
7 Ways COVID-19 + the Holidays are Affecting Adults' Relationships With Their Parents
You may feel a need to reconnect. As the 2020 holidays approach, you may have become somewhat distant from your parents. Whether that was intentional or unintentional, you may find yourself feeling a longing to be more in touch with them.
You may worry about their physical and mental health. The Pandemic may be making it hard for you to communicate with or see your parents. You may feel less able to be involved in their choices or care.
You may feel more in need of validation. All human beings need to feel seen and known and loved by their parents. We need to hear certain things from our parents that assure us that our feelings and needs matter. If we don't receive enough of that in our childhoods (Childhood Emotional Neglect or CEN), our brains automatically continue to seek it as adults. To need this from your parents is not a sign of weakness, but of your humanity. Feeling vulnerable right now in general may make you need this validation from your parents even more. It's painful.
You may feel afraid of losing them. Will your parents get COVID? You may find yourself worrying about or imagining how you would feel if you lost them.
You may find yourself appreciating them more. There's nothing like a fear of loss to make you more appreciative. You may be feeling more love, more warmth, or gratefulness for what your parents have done for you.
You may experience them as needy. Are your parents calling you more often, asking you for help or advice or support? Do they need to connect with you more often than has been typical of them? This is likely because they are feeling vulnerable or worrying about you.
Family dynamics may be intensified. Not surprisingly, stress aggravates previously existing problems of all kinds. So, in many families, old anger or frustration, or resentment has been fomenting and increasing under the powerful pressure and strain of COVID-19.
The Role of Childhood Emotional Neglect
If you grew up in an emotionally unavailable (CEN) family, you may be experiencing several of the effects above. You may feel a longing to receive the ingredients that were missing from your childhood, while also feeling distant and helpless and disappointed in your parents.
When you do not receive enough emotional attention, empathy, meaningful conversation, or validation from your parents as a child, (Childhood Emotional Neglect or CEN) you are naturally, as an adult, continually driven back to try to capture it. But your CEN parents may simply not have it to give, and this compounds your pain.
3 Ways to Cope
Put yourself first. Your parents are important people, of course, but your primary responsibility in life is to yourself. So be sure to prioritize your own needs during this stressful time. Your physical, mental and emotional needs must be addressed before you can give to others, even your parents.
Try to accept what you cannot change. This wise principle is one of the tenets of 12-Step Programs and it applies here. You do not have control over your parents and you cannot change their choices. You also cannot get from your parents what that they do not have to give, like emotional validation, empathy, or connection. Accepting your powerlessness in this relationship can be quite painful, but it does protect you from the wheel-spinning and frustration of continually going back to an empty well, looking for the emotional connection that never appears.
Take note of what your feelings are telling you. Your feelings are communications from your body. Every feeling carries a specific message. For example, the feeling of longing drives you to contact them more, whereas anger/frustration tells you to take protective action. Your feelings are trying to guide you, but there is a second question to ask yourself: Is this feeling telling me to do something healthy for me or something that may be unhealthy or damaging? It is important to notice and listen to your feelings, but it's important to process them first. Sometimes, it can help to run this by someone you trust to gain a more objective opinion of what is healthy for you.
Most likely, this pandemic is affecting many of your relationships for better or for worse. And now, with the holidays upon us too, the one thing you can do right now that will make you stronger in every area of your life: nurture yourself, care for yourself, and pay attention to what you are feeling.
When you feel vulnerable, treat yourself as if you are your own number one. Because you are.
Wonder if you grew up in an emotionally neglectful family? Take the Emotional Neglect Questionnaire. See the book Running On Empty to learn what CEN is and how it affects you now; and Running On Empty No More: Transform Your Relationships to learn how you can heal CEN with your partner, parents, and children.